Click for Registration Form PDF 

Cubbies MUST be 3 years old by August 31 
Club cost is $45 for the 2022-23 year
Kids have a blast on Wednesday nights at AWANA! Our program runs from 6:00 – 8:00 PM during the months of September through April. Intentional discipleship, crazy games, special theme nights and caring leaders are part of what makes Awana great at Calvary. All of our leaders and workers have been screened and trained in accordance with our child protection/safety plan.

Children ages 3-4 experience Awana in a way that fits their enthusiasm and energy for life. Our Cubbies learn foundational truths about God, His Word, and His love for them. To be involved in Cubbies, a child must reach age 3 by August 31 for fall registration in Awana.

Our Sparks club for children in Kindergarten through second grade brings a wide range of crazy theme nights, special activities, large group Bible lessons, small group book time, and games in the gym. Sparkies are easily identified on Wednesdays by their red vests, which they wear with distinction!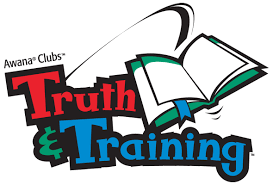 Students in grades 3-6 make up our Truth & Training clubs. They too enjoy special theme nights such as 'Crazy Hair Night' or 'Backwards Night.' Students who complete book sections are given opportunities to select items from the T&T Treasure Chest which includes $5 certificates for summer camp at Camp Fairwood! Other T&T activities include the bi-annual Awana Grand Prix, Fairmont Fair night, and the annual bowling party open to all those who finish their books in the Awana year.

Our 7th and 8th-grade teens start their TREK nights with games and activities in the gym. They also enjoy large group Bible instruction with some small group mentor time. Our TREK'ers engage in some activities outside of the building like going to the Kalahari, work retreat, and helping others (i.e.cutting/stacking firewood or raking yards). Bi-annual trips to Chicago to visit /serve at Pacific Garden Mission open their eyes to the need for the gospel in areas outside of Wisconsin Rapids. For those who finish their books in an Awana season, a two-night retreat is planned at Silver Birch Ranch!
Contact the church office to register 715.423.7190
Cubbies MUST be 3 years old by August 31